Risk Assessment Report Format
The standard report will be structured as follows:
1 INTRODUCTION
Including Site Description and Background to Legionella.

2 RECOMMENDATIONS
Comprehensive site specific recommendations which identify any problems with the water system(s) including:

Management Procedures -Management Monitoring and Maintenance Issues

Systems Conditions - Hot and cold water services and storage

General issues and

Summary of Recommendations
3 ASSESSMENT OF RISK
Covering Rationale, Method of Risk Assessment, Legionella,
4 OBSERVATIONS

General Management Compliance information, Systems Conditions of hot and cold water storage vessels, Systems Description detailing which hot and cold storage vessels feed which outlets, mains supply and a full asset register of Hot and Cold Water Service Outlets including Sentinel Outlets with their location and supplied water type.


5 REPORT PHOTOS
Providing selected photographs eluded to in the report.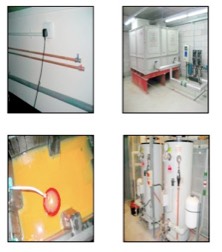 6 SCHEMATIC DIAGRAMS


Detailing an accurate but simplified illustration of the configuration of water systems allowing you to understand quickly the relative positions and connections of the relevant components, including parts that are out of use.

7 LOGBOOK
Following the Introduction which gives general information regarding Record Keeping, Hot and Cold Water Outlets and Storage the document provides a Checklist: Hot and cold water services and log sheets for the following:


Responsibility Structure

Customers Annual Risk Assessment Review Sheet

Mains Water Supply (Analytical Data) Log

Hot Water Calorifier/Cylinder Log

Cold Water Storage Cistern Log

Hot and Cold Water Outlet Log

Hot and Cold Water Outlet Log. Sentinel Outlets.

Outlet Log Sheet (Disinfection)

Closed System Water Testing: Heating System Inhibitor Log

Closed System Water Testing: Remedial Work Requirement Log

Certificate of Disinfection

TVC Graph (Weeks 1 to 52)

Little Used Outlets Weekly Flushing Regime

Other Risk Systems Maintenance Log

Plumbing Maintenance Log

Hot and Cold Watetr Services Microbiological Activity Action Levels

Action To Be Taken In The Event of Legionella Contamination

Each log sheet will provide explanatory notes to help you.

Follow up consultancy can be provided to assist the clients to continually manage the findings of the Legionella risk assessments should sufficient expertise not be available within the business.
The risk assessment will allow the site management to qualify or instigate any remedial works and to furnish the Responsible Person with the necessary site information for setting-up all risk control Measures.

The risk assessment will not only concentrate on the physical condition of the associated plant and equipment, the "hardware", but will also assess any risk posed by the management and execution of the systems and controls systems in place, the "software".

All recommendations made in the risk assessment reports refer specifically to the site which is surveyed.

Schematic diagrams will be produced for each property surveyed including schematic representation of all hot and cold water pipe work distributions including dead leg pipe works and associated plant installation/configuration.

The schematic diagrams are based on a non-intrusive survey and will be based on pipe-work/plant accessibility.

Digital photographs will be included in the report to illustrate the status and condition of the system surveyed and to highlight particular problems identified during the survey.

From all data and information gathered during the site survey, a risk listing of Legionellosis priority will be produced for each site surveyed and a detailed remedial works priority listing will be produced in order to allow for the correct scheduling of all proposed works.


Steve Mount Associates Ltd. risk assessments reports are presented in paper copy and electronic formats.



For more information on our independent, bespoke risk assessment services please complete the contact form or call us on
0778 752 4066
or email
stphmount@yahoo.co.uk